First time mum to be Charlotte lives in Rochester with her partner Charlie and fur baby Digby. Despite suffering a previous miscarriage and severe morning sickness, she is feeling hopeful and excited for their future and finally becoming a family in early August 2021.
What have been your highs of pregnancy so far?
The biggest high so far was finding out our little rainbow baby was a boy, a mini-Charlie, and future rugby and cricket player just like his Daddy.  Although government restrictions at the time meant I had to attend scans alone, it's been amazing to watch him grow, from a tiny little bean to an actual baby.
Watching my bump grow every day has also been a real high. I've never loved and respected my body as much as I do right now. I can't wait to catch up with family and friends now restrictions are lifting and for them to see bump before he arrives early August.
Due to having an anterior placenta, I didn't have any kicks or regular movements until I hit around 26 weeks pregnant, which I initially found difficult as for me the kicks are reassurance everything is okay. Now it's even more special that I can feel baby W moving around – even when he wakes me up doing summersaults at 3am!
What have been the most difficult parts?
The first trimester was particularly difficult. I found myself constantly worrying as we had previously had a miscarriage, and we couldn't face the words 'I'm sorry your baby no longer has a heartbeat'. I think that will stay with me forever.
We were lucky to go for a private scan at 9 weeks to check baby was in the correct position and to hear that strong heart beating was the best feeling in the world. The relief after our 12 NHS week scan was incredible and I felt like for the first time I could relax.
I also suffered from morning sickness and nausea until 25 weeks which was tough, but I just kept reminding myself just how amazing my body was growing a tiny human! Luckily once I hit 26 weeks I felt like a new woman and I'm now I'm back to my normal self and excited to be a mum for the first time.
What does motherhood mean to you?
For me being a mother means giving unconditional love and attention to your child for the rest of your life. To care, advise and support them no matter what the situation. To provide a loving home and put their needs before your own.
What preparations have you made ahead of baby W's arrival?
I've always been a really organised person, so even if Baby W was to arrive tomorrow, we would be more than ready for him! His nursery is prepped, pram and car seats have been assembled, and all his lovely sleepsuits have been washed in Surcare, so that I know his skin is protected from the start. I was really shocked to read at how common eczema in babies is, so it's definitely something I will continue to use.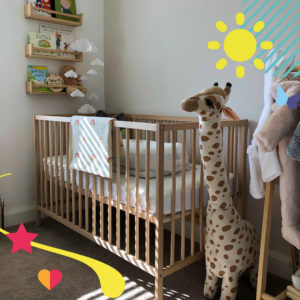 Another thing we did worry about was just how much having a baby can cost. There's so many 'must-haves' these days that we were spoilt for choice, but knew everything came with a hefty price tag.
We were gifted some bits from friends who have had babies, and from there I went on the hunt for some bargains. I say 95% of baby boys items are second hand be it boot fairs, charity shops, eBay, Facebook marketplace or hand me downs. I love to shop second hand, so it was only right I did this for baby boy too! One of my best finds was a brand new Snuz Pod, which retail around £330, but I only paid £70! I find it really rewarding to shop second hand, not only to save a few pennies but to help the environment too.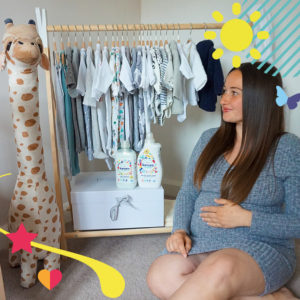 Are there things you're worried about when becoming a mum?
When I first found out I was pregnant, I was adamant I wanted to bottle feed, but as the months have passed (and I guess my maternal side has come out!), I feel more and more passionate about breastfeeding as a first time mum. I've read books and spoken to friends who have done both. Ultimately as long as baby boy is fed and we're both happy that's my main priority but I would really love to give breast feeding my all.
What are you most excited for?
I'm most excited to introduce Baby W to his Big Fur Brother Digby and also for all of the family to meet him. Baby W is the first grandchild on both sides of the families and one of the only babies to be born in many years, so its extra special. To bring him home and start life as a family of 4 is going to be an adventure!
What are your hopes for Baby W?
My hopes are that our son lives a life filled with adventures and joy. To be happy, healthy and to follow his dreams, all the while knowing his parents will support him no matter what.
Follow Charlottes journey through pregnancy and becoming a first time mum on Instagram @lifeofcharlouise