Tips for making ordinary days, memorable ones
Now that attractions are starting to reopen, you're probably already booked in for a long-awaited day out with the family. As crucial as it is to support local businesses at these times, days out can become costly, plus booking in advance means it is likely you'll still have downtime at home.
We've collected our favourite ideas for everyday adventures in and around the home, that can be done easily and won't cost you the earth. Plus, once all the fun is done and the memories are made, Surcare will be there to take care of the grass stains and ice cream dribbles, all the while protecting your family's skin from irritation.
Remember to use #everydayadventures and tag @SurcareUK – we'd love to see what you've been up to!
Little explorers 
Family walks have become the norm these last few months – but it's time to take it to the next level! Before you leave for your walk, spend some time creating an 'eye spy' checklist, think birds, rivers, butterflies, flowers, ladybirds! Tick them off when you find them, or you could even take photos to share with the family at home.
TOP TIP: A pair of binoculars will be super handy – don't have any? Make your own out of toilet rolls, Sellotape, and some paint!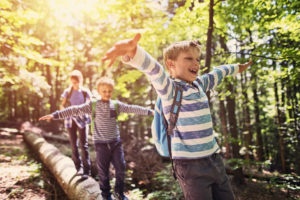 At the car wash
Has your car been a bit neglected these past few months? Grab the hose, bucket and sponges and get the kids involved in helping to wash the car. Bubbles and water fights welcome!
TOP TIP: Why not put create some flyers and post around your street to ask neighbours if they would like their car washed? It's a great way to help people out and maybe even earn some extra pocket money!  
Beach party
You don't need to live near the cost to have a beach party! You can still play beach games, get the parasol up and the inflatables out. You could even try creating some mocktails and treat yourself to an ice cream! All the fun without the sand in between your toes.
TOP TIP: Nominate someone to be the lifeguard, who can keep an eye on everyone during the party! What they say goes…
Your family has talent!
Fed up with all the TV talent shows? Have a giggle and host your own with the family – the cheesier the better! Get practising your performance, nominate who will be the judges and vote for your favourite act of the evening.
TOP TIP: Record the show and share with family and friends. Lights, camera, action!
Home cinema
Bring the cinema home and set up a private family screening of your favourite film. Gather all the pillows and blankets and don't forget the popcorn and sweet treats! Get the kids to create some admission tickets which can be checked on your way into the 'cinema'.
TOP TIP: Hang some fairy lights around the TV for some extra magic when the lights go down…
Sports Day
With some little ones missing out on their school Sports Day, why not recreate it at home or in the park? We're thinking 3-legged race, egg and spoon and even the sack race using old pillowcases!
TOP TIP: Refuel all the athletes with a picnic or BBQ and end on a high with an awards ceremony!