Surcare was first launched by Manchester-based cleaning company McBride back in the 1980s, providing household cleaning products with no unnecessary nasties that could irritate sensitive skin.
Our look has evolved over the years, but we've always been a wash of blue and white – exactly what you'd expect of a sensitive skin brand, with a little bit of grass thrown in for good measure.
Over the years, we've been lucky to build up a lovely and loyal customer base who rely on Surcare to keep their homes clean and skin happy.
Although popular with existing users – not a lot of people know about Surcare, or the harmful ingredients found in many household products. With eczema cases rising more than 40% in just four years*, we knew we had a responsibility to spread the word about the good Surcare can do for those with sensitivities and the positive impact we can have on people's lives.
So, 12 months ago, we decided we were ready for change.
We started by talking one-to-one to those suffering from a range of skin conditions – from mild to severe. The resounding sentiment was that people simply wanted to get on with their lives, and not let sensitive skin define them. This hit home with us, as we've always been passionate about supporting those with sensitivities, but it was obvious we could take it a step further.
We took a good look at ourselves and realised that although our formula is trusted and well-loved, we needed a little self-care on the outside. We wanted a brand we could be proud of, one that you would want to get involved with, and most importantly one you could believe in.
Although we are a sensitive product brand – we're not introverted. We are positive, caring and confident, and we wanted our new brand to be just that. So, we stripped it right back and we started again.
First off was our colourful, energetic icons which add buckets of personality, and although you'll recognise some elements of our logo, we've softened it with a rounded font style. Then one spring day in the garden it came to us, a butterfly. The idea that something so small and delicate could be so brave and carefree really inspired us. We had found something to symbolise our products and how we want them to make you feel.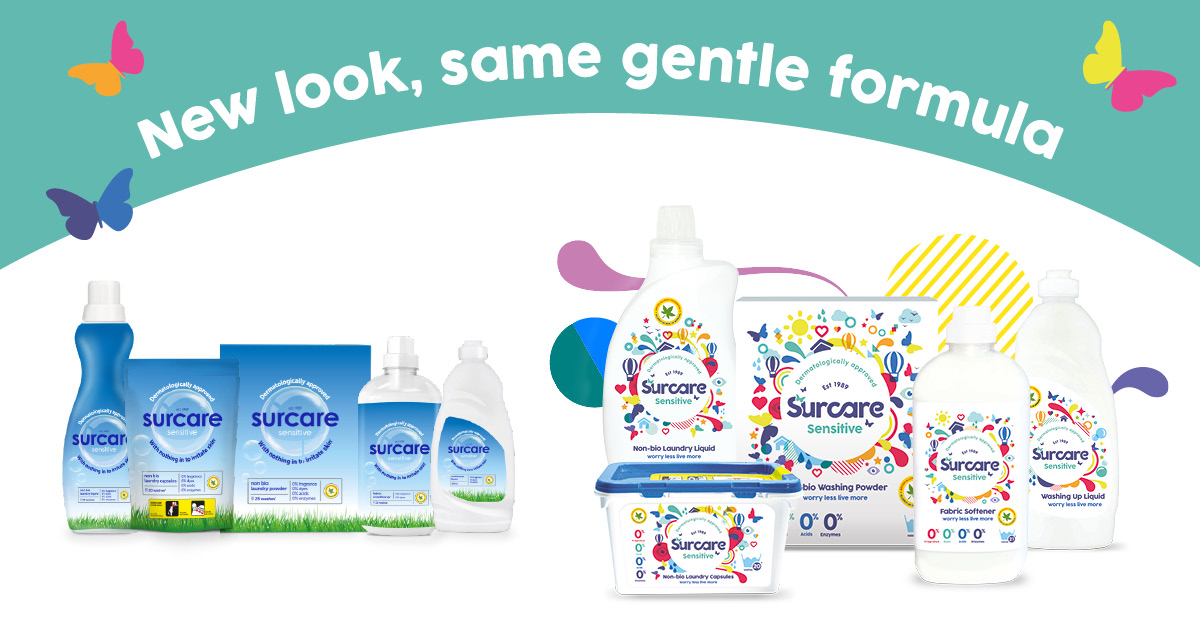 We want our customers to celebrate life and all the little wins. Even if that's something as simple as enjoying a full night's sleep in bedding that doesn't irritate you, or watching your child splash in muddy puddles and not worrying about the aftermath. Whilst Surcare isn't a medical product, and cannot cure skin conditions, our 0% formulations can give our customers one less thing to worry about in their ongoing battle against sensitivities.
The idea of taking away one of life's many worries was something we had always believed in – but now was the time to put it into action. That's why you'll find the sentiment, worry less live more, front and centre on our new packs.
So, what's inside the bottle is exactly the same as always, but the outside is more 'us' and we really hope you love it as much as we do.
We've got lots of exciting things planned and we'd love you to get involved. We're always learning and truly appreciate hearing from you and how we can support further.
Our new packs will be in store from July – but in the meantime, you can visit our new website, Facebook or Instagram pages for advice and tips, butterflies and hot air balloons.
*Source: The Daily Telegraph