Here at Surcare we've always loved hearing what our customers think and we've always been grateful to have a really loyal customer base. However, with cases of skin conditions, including eczema, growing year on year we knew we had a responsibility to educate people about some of the chemicals and fragrances found in their laundry products and homecare products, and why our 0% formulations set us apart.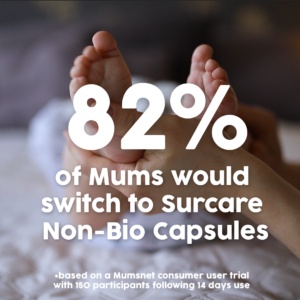 Our complete range has received the Allergy UK Seal of Approval – awarded to products with significantly reduced allergen content that have been independently clinically or dermatologically tested and proven suitable for sensitive skin. But we wanted to do more, we needed to get our products in the hands of real families, who understand how worrying skin conditions can be, especially when it comes to children. To educate around hidden triggers that can be found in homecare products and demonstrate that Surcare's dermatologically approved formula means we have your back when it comes to skin, but is no compromise when it comes to outstandingly clean results, even on cool and quick cycles.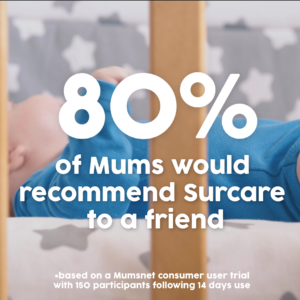 This led us to the wonderful Mumsnet – a platform where real parents can share their ups and downs, put their burning questions to a like-minded community and look for advice and solutions. We sent out 150 product bundles to Mumsnet users across the UK, all of which had young families who were suffering with skin related issues. As part of the testing exercise each family were given either our Non-Bio Laundry Liquid or Non-Bio Laundry Capsules, along with our gentle Fabric Softener and Washing Up Liquid, to test over at least two weeks. They were then asked to answer a few questions as to whether they noticed a change in their family's skin and their overall thoughts on our range.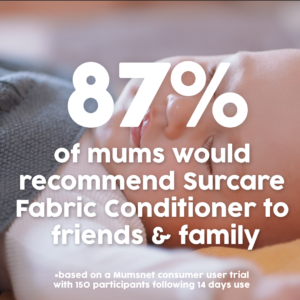 The feedback we received was astounding – and something we are really proud of. If we can help take away one of life's little worries – then that's a win in our books, and the results speak for themselves…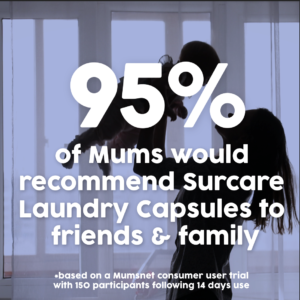 To read all of the comments (warning – there's over 125, and counting!) from the Mumsnet testers about Surcare's product range here's the discussion thread.
📸  Thank you to Jemma for the lead photo. Jemma is an allergy mum and dedicated Surcare user check out her blog nonscentsatno10.co.uk and follow Jemma on Instagram @nonscents_at_no10